July heat has brought in the catfish with quite a few big fish whiskerfish caught in the last three weeks.
UPDATE: We would be remiss if we didn't include Cristiano Calvo of Vacaville who hooked, landed and "handed" this 12lb 1oz monster catfish on a nightcrawler under the glow of a green crappie lamp just after sunset near the main marina.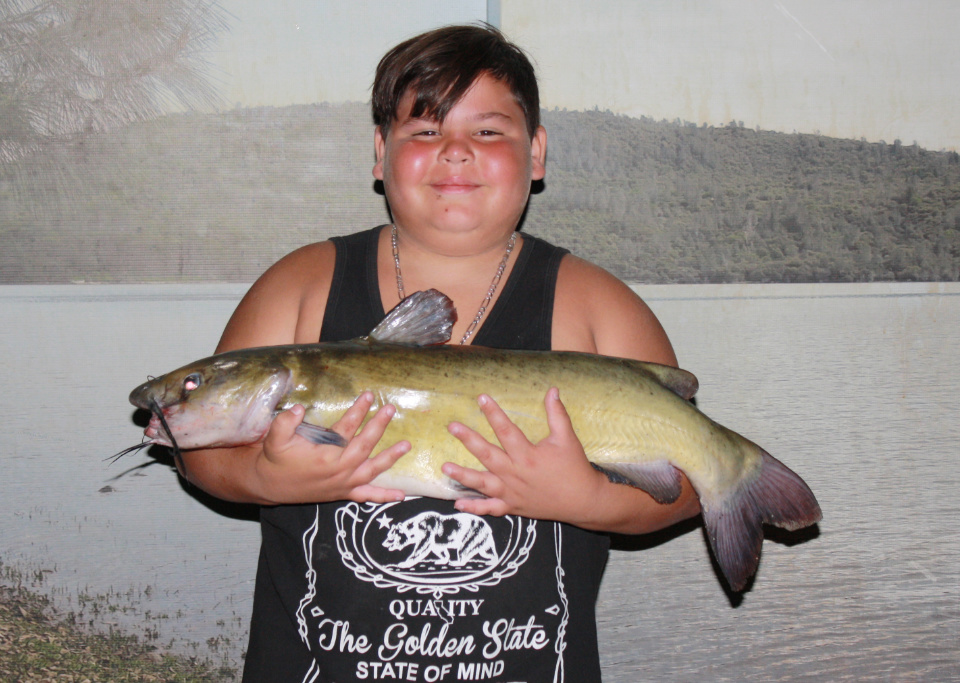 He ran it up to the store for a quick picture then returned and released it in the lake where it swam back to the depths. Watch your toes folks!
Topping the list were Greg & Joe from Folsom who reeled in among others an 8.7lb cat on an Anchovie: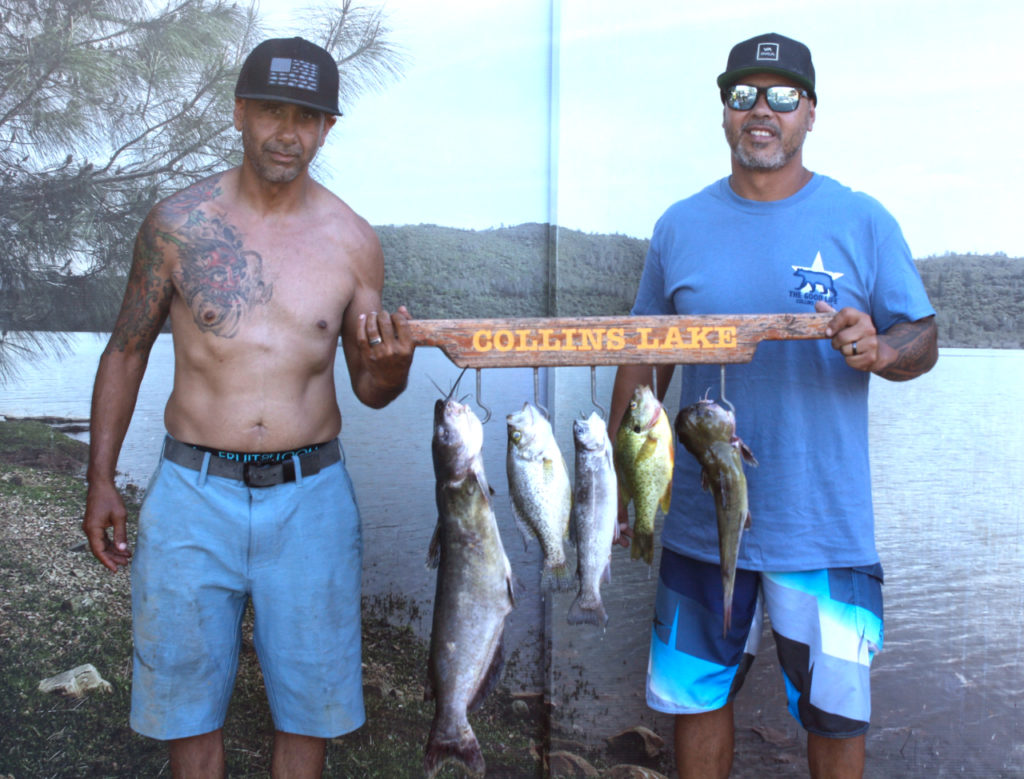 They weren't the only ones, the same day Wes Bachman of Rocklin nailed a 7lb catfish in the small draw near campsite #408 using a nightcrawler. Cruz had also dropped a nightcrawler in to catch his 6.5lb cat. Joel Shelton of Point Reyes (not pictured) caught that's fish's twin, another 6.5lb catfish, again on a nightcrawler, fishing from the rental dock.
Tyler Gleeson of Valencia broke the trend of catching cats on worms, using a more traditional hunk of cheese from the shore by #124. He hooked himself a 5lb fish, which was still kicking in his picture. Jack Brunton caught two 5 pound cats up by the bridge using PowerBait and Bryce Brunton a caught 4 pounder on a nightcrawler.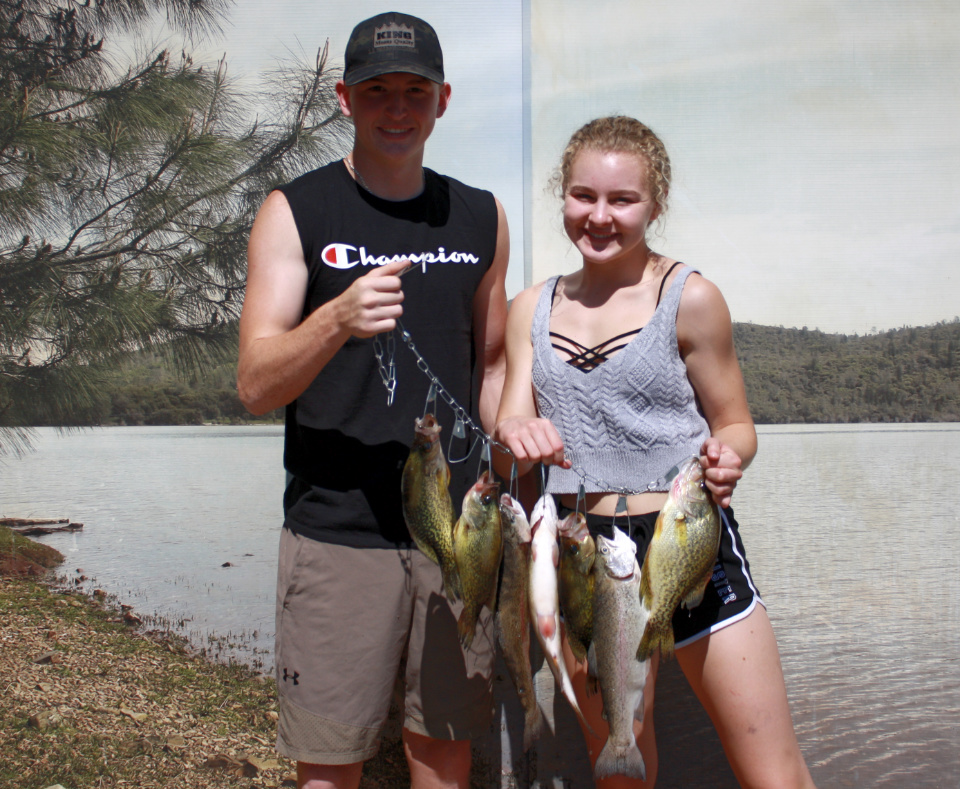 Catfish aside, Alyssa & Spencer has good luck over the weekend catching multiple trout, quite a few crappie, a reported 3.25lb bass and a couple bluegill another day all caught from the marina using garlic marshmallows. I have always kind of thought of marshmallows as a poor man's PowerBait but in truth they are very different and each has its own place. It seems this team reaped the benefit of using something other that Berkley's famed (and often effective) dough. Nice fishing!
Trout at Collins this time of year is generally considered sparse, I have often said you have to troll deep and be patient. Well I was listening to Bob Simms on KFBK and heard Robbie Dunham of Koke Machine Guide Service talking about how he and Kim caught a double limit before 10am. Now they were trolling speedy shiners down around 35ft to 45ft toward the dam which is typically what I would advise in the summer heat but Robbie was kind enough to get specific- he was on the water at opening and he said they caught just about every fish before the sun hit the water.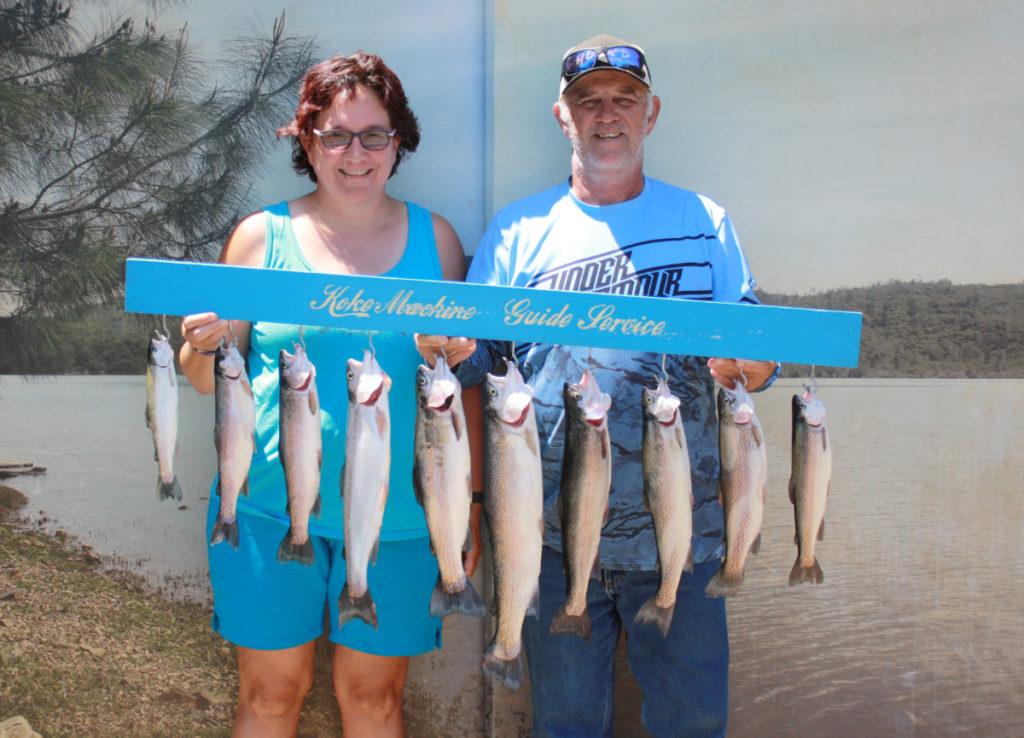 Well he had the fish to prove it so I took my dad and son out the next day; We just got on the water around 5:45am. We headed toward the dam and per the norm were marking fish at 25′ and 40′ so we put lines at both depths and sure enough started catching.
Interesting thing, there was not another trailer in the parking lot when we launched. By the time the sun hit the top of the hill the trout bite stopped dead.
About that time we saw a number of boats launch and head south with downriggers- probably heard Bob Simms' radio show! We fished another hour and although we could see trout on sonar, not even a nibble. I think everyone launching at 6:30 and heading south missed the party. Next time we'll be on the water by 5:32am.
If you're camping here and want to hit the trout hard, get a line in the water by 5am. And don't forget to send your photos and stories to fishing@collinslake.com
Ed