In spite of record rainfall, a full lake, and continued inflows from apparent snowmelt, surface temperatures have quickly climbed into the high 60s. A brief reprieve with forecast cooler weather through Sunday May 7th might buy us a few more days but while the sun has been out the trout have been moving off the surface into deeper water.
Jesse Castelanos caught this 6lb trout trolling Needlefish along the dam. He came back a week later and caught a 4lb Lightning Trout and another 3.3 pound rainbow doing the same down around 15ft. Ben Asaro caught a Golden Rainbow "Lightning" Trout trolling a Firetiger Lure and Jannie Hawkins caught this 3lb Lightning trolling a broken-neck Rapala.
Long time Collins Lake camper Jim Hayhurst showed us this huge 7.5 pound trophy trout caught near the dam, again about 15ft deep. Tracy Leyton was dragging a Needlefish with a wormtip from her kayak when she reeled in her 7 pound rainbow trout.
We always like to get a report from local guide Cal Kellogg of Fish Hunt Shoot, who spends more time pulling fish out of Collins Lake than just about anybody we know. He's got a recent video on his YouTube channel: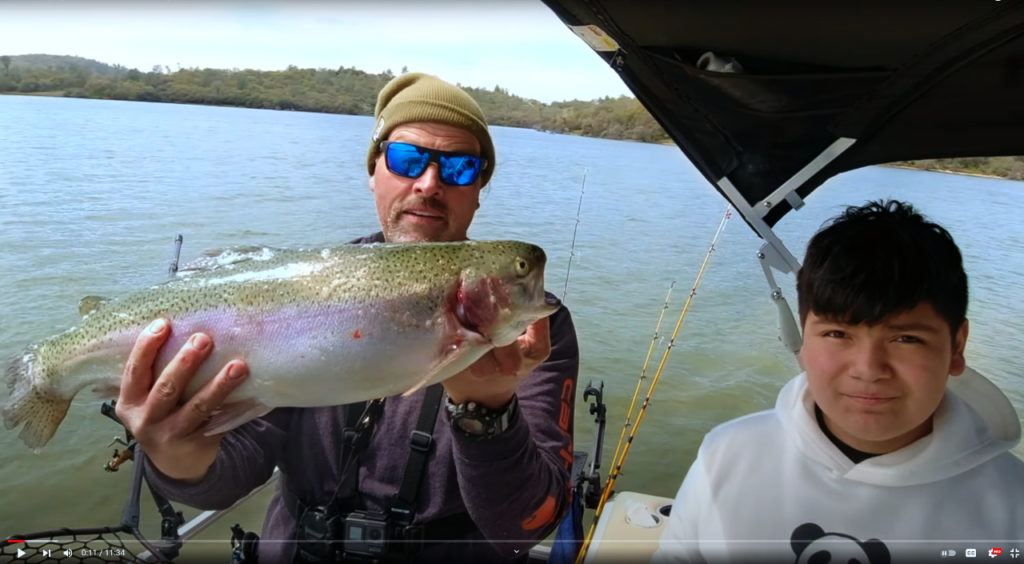 Cal explains that often his biggest fish of the day is caught on a trolling fly and he backs it up with clips from his guided trips and shows off the actual flies he's using. You can book a trip with Cal at fishhuntshoot.com or if you like his up-to-date local tips subscribe to his channel.
The Bass bite has been pretty strong and with a few years of a low lake behind us there is now lots of well developed vegetation submerged under the now full lake. It should be a great spawning year for all warm water species.
We decided to do a a couple warm water fish plants this year. We started off with 4000 small bluegill and 500 redear planted by boat all over the lake near protective habitat. Later this month we are hoping to receive a largemouth plant and another load of redear. Most of these warm water fish are young, but given the good habitat we are hoping for good survival and growth rates- investing in the future.
Lots of folks are catching and releasing bass. Good reports using live minnows or rubber worms. We were proud to see Nikhil Shrubb's first fish was a nice bass caught on a worm up along the north channel near the bridge.
Get Out and Fish had a great youth event with over 80 participants and we're looking forward to the Fish Whisperers Youth Derby on May 13th, 2023.