We've planted 8000 pounds of Trout planted so far this fall in addition to 4000 trout now being raised in our in-lake pen program. We've consistently seen trophy trout and lightning trout reeled in since the very first fall plant but it wasn't until the last couple weeks that we started seeing folks bringing in limits.
Scott McDaniel and his crew brought in 16 rainbows, with quite a few lunkers and one trophy "First Fish"
Trent and James Zizileukas are familiar faces around here. Trent called the other day and said he'd come catch some trout for a picture in this report and he didn't disappoint. That's an 8 pounder he's holding alongside another that's just about as big and James with a 7.5lb Lightning Trout caught in Elmer's Cove. In addition to shore fishing trolling has picked up considerably: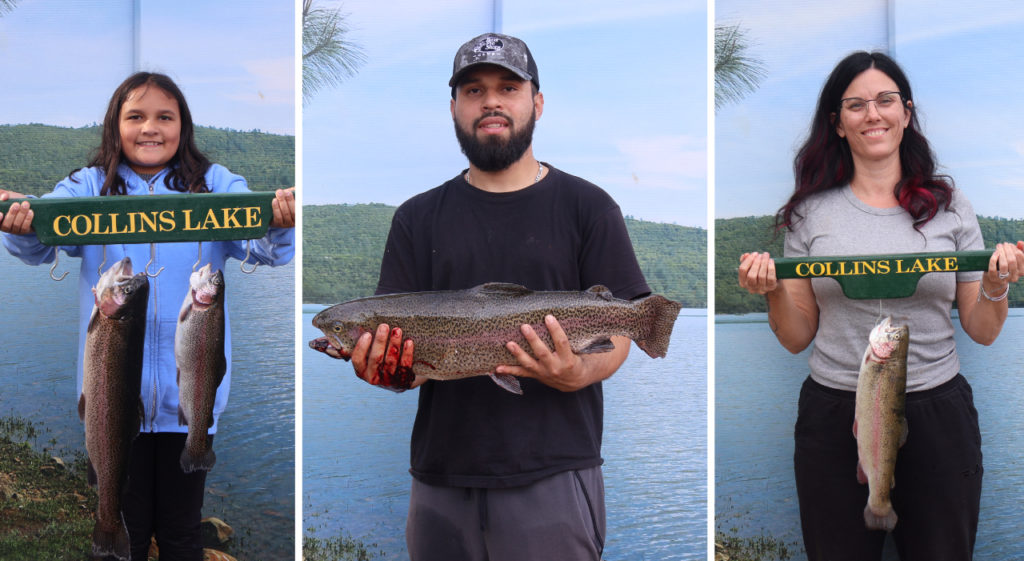 Tiana caught two including a 5.25lb rainbow trout trolling grubs out in open water. Christopher Cardoza caught his 7.5 pound trout dragging a flasher on weighted line. Domino caught her rainbow trout using rainbow Powerbait.
Alexander Saldana was excited to catch his first fish – a 3 pound trout near the beach using Powerbait. Chris Aiello for Auburn was dragging a pink trolling fly to reel in a pair of 8+ pound fish, one lightning trout and one rainbow.
Bob Hess and Marci Tarr had good luck with a golden Kastmaster out in the middle of the lake, reeling in three beautiful rainbows.
We have still seen a couple of bass here and there along with blue gill and redear sunfish but by all accounts trout are now the overwhelming majority. The lake is stable at about 32.5ft from full with surface temperatures around 56°F, much much cooler than a month ago.
We are currently schedule to continue trout planting right through new years with the next 1000lb plant scheduled for the week of December 4th – 8th.