November has been a great month for fishing at Collins Lake.  Of course we are still planting through the end of the month but warm dry weather has made it an exceptional time for camping and outdoor fun.  Just in case you missed it on Facebook, Check out this 9.75 pound rainbow trout Phil Rapin from Redding caught back on November 14th: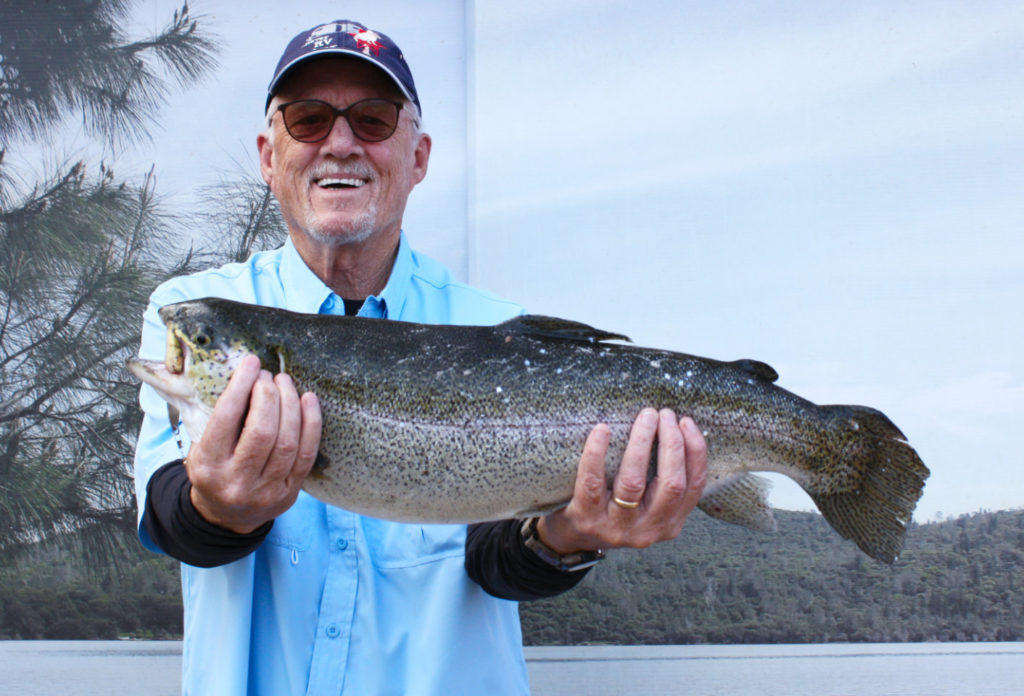 Around that time I was walking along the rocks in the Open Area when I ran into Bryan Durgan (below, left)) who in March had caught an 8.25 pound trout on the same shoreline.  Well this time he showed off an 8.75 pound, 26 inch long rainbow trout caught at noon on white colored power eggs.  Jason Koen caught his 20 inch fish on corn yellow power bait.  Robby Jellsey's 7 pound trout came from the North fork up by the bridge.  Fish have been stacking up in the channel as cool oxygen rich water has been flowing pretty constantly down the inlet for a few weeks now.  They're not always biting but they are up there every day.
Mike Woolf from Santa Rosa landed a 5 pound trout by campsite 56b using a nightcrawler.  Bernie Dore (and friends) of Elk Grove bested him by an additional half pound using orange PowerBait by the dam and Sid Cates from Lincoln caught a 5.5 pounder and added four more trout for a limit.
Henry Smith from Orangevale caught a 7 pound rainbow trout on PowerBait near the dam.  Of course I was reeling Kastmasters next to him and didn't get a bite.  We had a pair of 7 1/4 pound fish landed , one by Chan Chandler from Grass Valley who was trolling a Rapala at 17ft up by the power lines and the other caught by Heather Burchnell from Rio Linda using PowerBait in front of campsite 56b.  Site 56b is starting to sound like a great place to fish.
Tom Pickett sent in a picture of his 7lb 8oz rainbow caught on a Maroon Ned Rig.  Finally we saw an 8 1/2 pound trout reeled in by Chuck Clemenson who also caught a limit, and another 8 1/2 pound fish caught by Michael Brown of Loma Rica who was shore fishing down by the dam using worms and PowerBait:
Now the brass tacks…. Up until about 3 days ago shore fishing had been on fire, with quite a few limits coming in and a number of larger fish.   I've heard from several seasoned fishermen that at the moment the whole lake is pretty quiet, both on the shore and in boats. Potentially it's just a short hiatus after a day of high winds, we'll know pretty soon.
Notably there is water flowing at the inlet and although the lake level makes it difficult to get very far north, there are both trout and bass chasing the cold oxygen rich inflow. We are still planting- just today another thousand pounds of trout were unloaded. Additionally we stocked our trout net pens this week, which we'll care for through winter before releasing well acclimated fish Spring 2020.
With light rains and much much colder weather on the horizon we're hoping for a good finish to what has been a great November at Collins Lake.
Ed